Sometimes I think I made haste in starting this blog.
Not everyone has a website and an Instagram even before they have a proper foundation in the subject.
But as the name suggests, it's a journey. And the beginnings should be from point zero.
Now I am at a very crucial point in this art journey.
I have added a few tricks of the trade to my learning hat.
There is some physical and virtual proof of visible progress. It's like being on that part of the mountain where the plain land seems far away but you are far from that perfect peak you decided to take the journey for.
I did not stick to one person or one medium of learning, but I have gathered that there is one lesson that is advocated by all.
Observe your surroundings, learn to see, is the mantra sung again and again by artists on youtube, blogs, and even in the comment section on Instagram.
Last Sunday of February, We had to go out for some reasons.
We had a long journey ahead of us, so we started before sunrise.
And gosh, I had a glorious opportunity to capture the essence of nature.
Yuh hi Chala playing in the background, and my siblings singing along, plus the serene beauty of the sun and clouds, I observed so much.
Here are a few photographs I clicked and let me tell you how I felt like seeing them for the first time. I have always been interested in clicking pictures of nature, but this was a different experience
.
So when we began the journey I thought in my head that the clouds were grey.
In a matter of few minutes, the radiating sun rays changed my whole idea of the clouds. The clouds had a shiny glint on the edges the sun rays were falling on.
A few more minutes and the clouds became shinier. I observed the light and shadow stuff every art YouTuber keeps talking about. It was such an eye-opening sight.
The memory of the sunrise is still so vibrant in my head because I observed so many details. This picture of a lady who started her day with the sun was clicked accidentally but it is one of the best memories of that day.
The route to our destination was filled with Butea monosperma (Sacred Tree) flower trees in bloom.
It was an unusual sight for me to spot so many of them together. Fortunately, we stopped on the way and I was able to click this brilliant sunrise.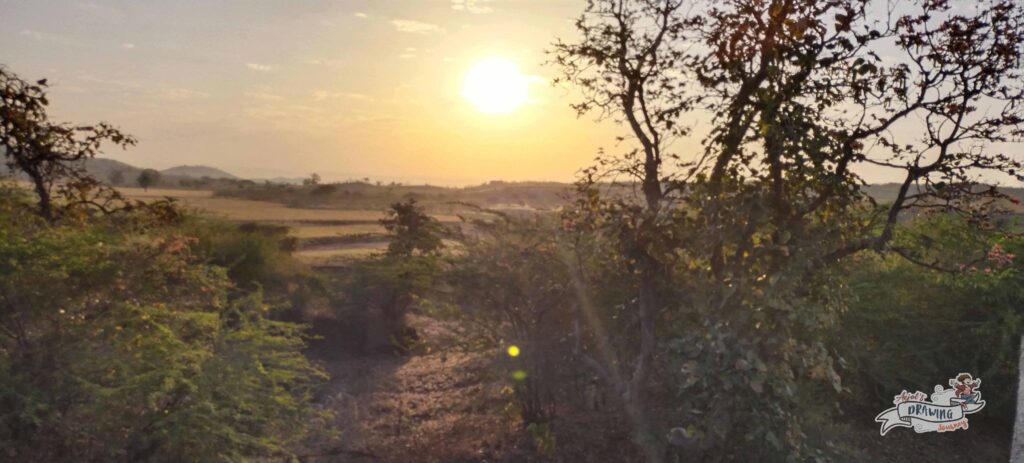 Not only did I observe the shape of these beautiful flowers but also the way it is colored. With the orange lines in the middle and the white border-like thing on the edges.
We also witnessed flocks of birds. They followed a pattern even when they flew. It looked so perfectly set with the trees and sky in the background.
When I saw more trees, I remembered the words of Bob Ross- "Give some character to your trees" and the trees in front of me had that exact thing.
Even if they looked straight from a distance they had branches growing from almost every direction. The leaves had more than yellow and green. There was some obvious brown which was caused due to the harsh sun. The bark was much more than brown and black. The size of the trunk gave away an idea of a tree's age.
On the journey back home my clouds looked something like this. I smiled to myself when I noticed the lighter and darker parts of the cloud.
I knew at that moment that painting is going to be much more interesting from now on.
In a distance, we could see these mountain ranges and again my mind remembered another YouTube tutorial where I followed directions without knowing why I was adding the darker shade.
Initially, my head equated all the shadows to grey. I was so wrong. Shadows should be suggested by the dark colors of the object the shadow is falling on.
When the sun had set, the clouds were back to how they were at the beginning of the day. My way of seeing things changed so much on that day.
I had easy access to trees, clouds, and nature even from my home. I have a garden I so lovingly tend to, but I have not seen anything this way before. But it is truly said that sometimes a change of place and air can give you a new perspective to your eyes. I will not be exaggerating if I say that I have got an extra lens in my eye since that day.
So this was it, the enchanting art experience of nature. Tell me if you had any similar kind of experience. Do all artists see the world this way and more?
Do you think painting makes you more aware of your surroundings? Use the comment section and tell me your thoughts. I look forward to hearing from you.