The beginning of 2021 was quite lukewarm for me.
My spirits rose after a day or two. And I thought to myself, it isn't so late to start something anew.
So I began learning digital art with the help of a Veikk pen tablet and my phone.
Whenever I begin something, my energy level and enthusiasm both are at peak.
During those times I cannot really think of anything else then, so I practiced for hours, talked to people about it, then talked to myself about it, and built quite a few castles in the air. Come on, Khayali pulavs are just so delicious!
But the thing is, Digital Art is hard.
I struggled to look at my phone while I drew on the tablet.
The huge number of brushes and the options available overwhelmed me.
My hands wanted to feel the real brushes in my hand but the options on AutoDesk lured me to the other side.
My heart argued that digital art had no feelings yet I could stay glued to my gadgets all day long.
While one was the comfort of the shore, the other was sea of uncertain possibilities.
How is a digital mandala going to make you feel relaxed when the symmetry tool did all my work?
In-spite of numerous notions of my heart I had a lot more opportunities with digital art.
So one day at a time I learned little by little.
I went searching all the guides on YouTube to being able to name and find the tool without struggle.
I could duplicate things and drawing a circle has never been easier.
What else, I'll not have to worry about wasting my precious water-colour paper or my Faber Castle watercolour tubes.
My favourite was the undo option. How easy it was to correct a mistake.
And yet, after all this time I could not help but feel like a total failure.
Whatever I drew lacked the finished look.
It was as if I had to learn my "a..b..c.." all over again. And it is a painful endeavour.
My enthusiasm and energy were witnessing highest downs.
Finally I was able to follow a tutorial on YouTube and make a strawberry on my own!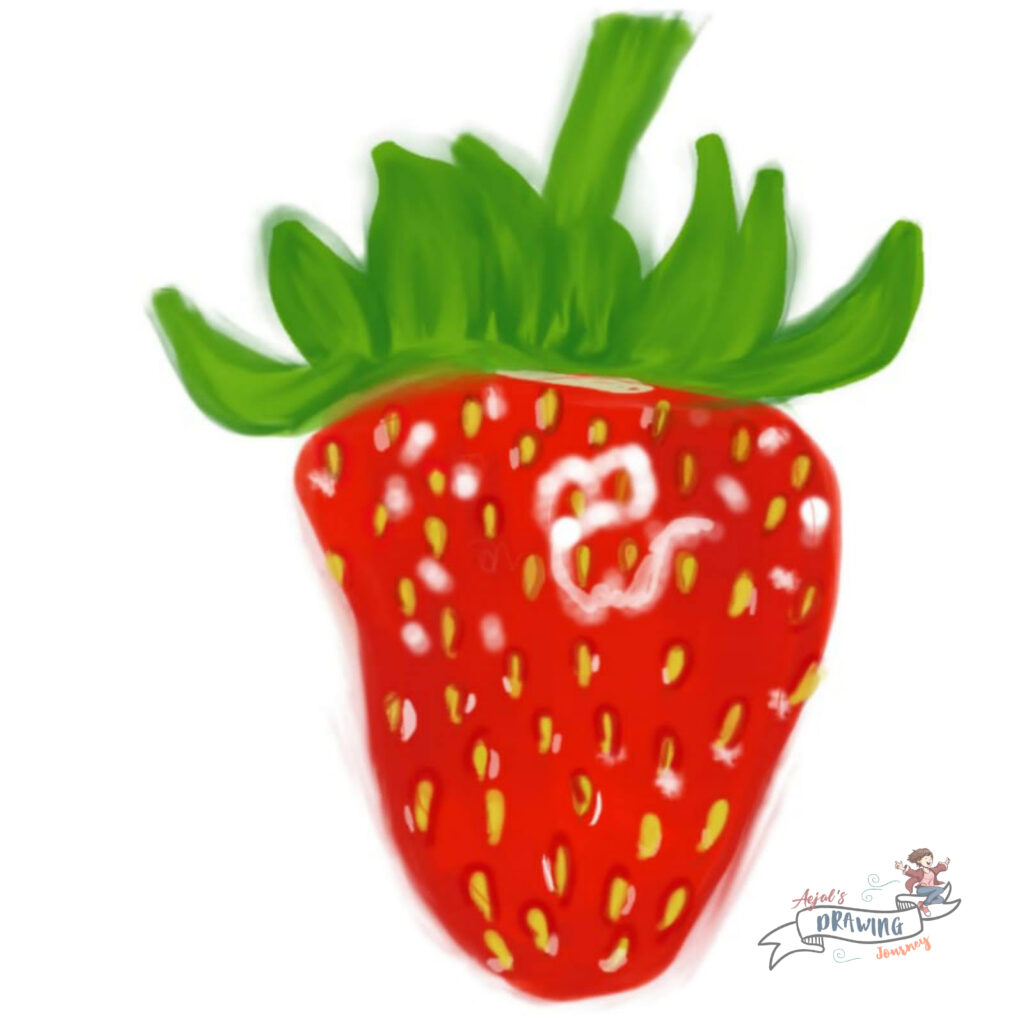 Only then I understood how much I needed that little win.
Even if I drew it on my phone, I knew the effort I put in was no less than I would on a paper. My inner child giggled like a butterfly at this thought.
So here is my journey with digital art so far, difficult but adventurous.
And it has been only 20 days,
May be not today, 6 months later, I might start making art which makes my heart fill with content, and someday with joy!
Also, I can always choose to pick up my brushes and paper again if I want to. Nobody says I have to quit one for the other!
So my message to whosoever is attempting something new, hold on, you'll get there, like I will get there, just remember your little wins, atleast you'll find the will to keep going.
Do tell me if you have been through a similar experience!
What are you trying your hand at this 2021, a new skill or perhaps a hobby?
The comment section is all yours to share!